The Genomics and Bioinformatics Core Facility of Nantes
The Genomics and Bioinformatics Core Facility of Nantes is part of two French national infrastructures in genomics (
Biogenouest Genomics
) and bioinformatics (
ReNaBi-GO
).
The genomics platform, which includes 6 staff members, provides scientists with the necessary tools for carrying out research in genomics in marine bio-resources, agronomy, environment and health. The facility runs the following equipment:
2 next-generation sequencing apparatus (Illumina HiSeq1500 and MiSeq)
1 high-throughput system for genotyping & expression profiling (Affymetrix GeneTitan MC®)
2 microarray scanner stations (Agilent Biotechnologies and InnoScan)
1 capillary DNA sequencing machine (Applied Biosystems 3730)
1 real-time PCR machine (Roche LightCycler 480)

The bioinformatics platform, which employs four computer biologists and one system administrator, holds two large-scale computing systems, each consisting of 448 cores (4-GB RAM per core) and 200 TB of secured data storage. The facility, although specialized in microarray and NGS analyses, provides the regional scientific community in life sciences with computer resources for large-scale data management.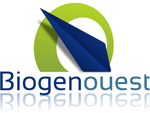 Mis à jour le 30 June 2014 - Mathieu LE NEUE.