Radioactivity technical platform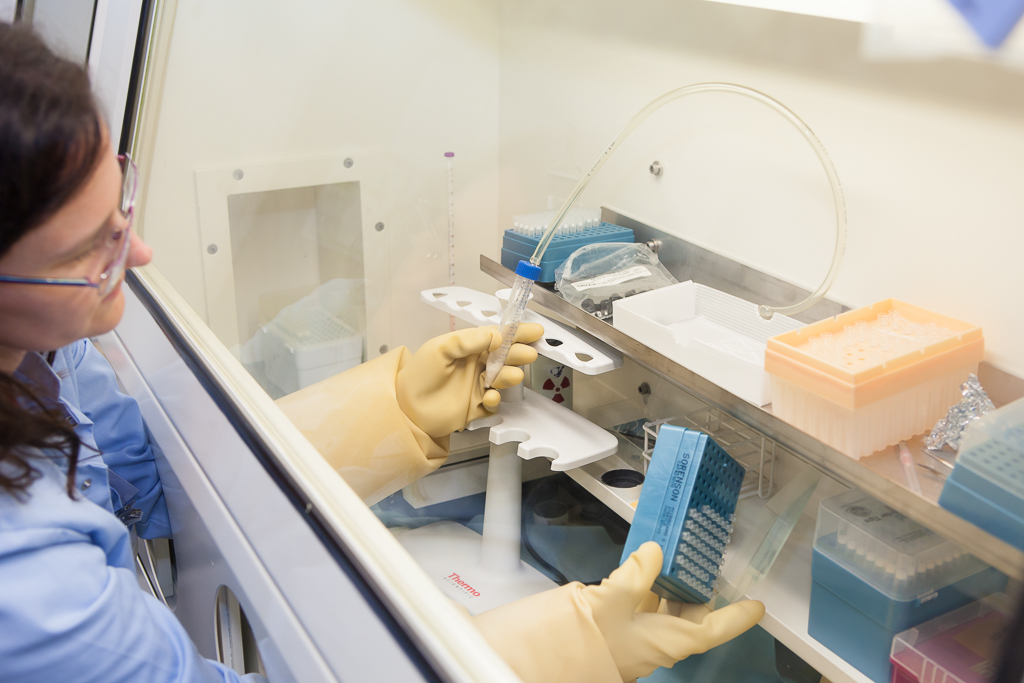 The radioactivity technical platform of the Institute for Health Research of the University of Nantes (IRS-UN) is open to research units, and more particularly to health-related research units, to internal or external training courses at the University of Nantes and to companies (under agreement).

This radioactivity platform offers 10 operating rooms allowing the use of radioelements in working conditions in compliance with regulations and radiation protection rules. In this respect, an authorization is issued by the Nuclear Safety Authority (ASN).

The principal experiments are related to medical research: oncology, immunotherapy and metabolism. The sources used are unsealed liquid sources with relatively low activity.

Radioactive methods show a higher sensitivity and reproducibility of results than commercial tests, which are more interesting. The IRS-UN's radioactivity technical platform works in collaboration with :
the ARRONAX cyclotron for the production of radioelements (copper-64 and astatine-211)

the SUBATECH laboratory /

IMT Atlantique
Persons wishing to access the radioactivity technical platform should contact the Radioprotection service.
Know how
Accompaniment of users for good handling practices in radioactivity and the use of special equipment.
The fields of our know-how are varied :
molecular biology: protein labelling (32P, 35S, 64Cu, 125I, 111In, 177Lu, 211At ...)
cell biology: cell proliferation, cytotoxicity, irradiation tests (3H, 51Cr, 213Bi, RX...)
animal experiments: antibody biodistribution, radioimmunotherapy protocols, cholesterol elimination pathway studies, irradiation (125I, 111In, 213Bi, 3H, 14C, RX...).
In-vivo experiments are a particularity of this technical platform.
Types of services
The Radioprotection Service ensures the prevention of risks through :
studying the feasibility of experiments
training of all new users according to their needs
dose studies
specific equipment
enhanced medical monitoring (passive and internal dosimetry)
Since November 2014, the Technical Platform offers the irradiation of blood products (25 to 70 Grays).
In addition, users are free from constraints linked to regulations thanks to :
the constitution and follow-up of the authorization file
source management
waste management
regulatory periodic inspections
Examples of achievements
Radiolabelling of antibodies, peptides, liposomes
Determination of the Kd of antibody and/or the number of cellular antigenic sites (Scatchard or Lindmo method)
Tests for stability, immunoreactivity, toxicity, encapsulation
Biodistribution of antibodies
Study of intestinal cholesterol efflux, VLDL clearance
Graft-versus-host cellular cytotoxicity study, ADCC tests
Nucleic acid hybridization followed by protein expression
Study of the effect of fractional X-ray irradiation
X-ray irradiation before hematopoietic cell injections
Induction of DNA breaks by X-rays
Hypoxia
Combination treatment studies
Equipments
Rooms :
The experimental rooms are dedicated to one radionuclide (or type of radionuclide). They are equipped with all the equipment needed to carry out the experiments. Only small consumables must be provided by the users.
1 room dedicated to animal experimentation
1 room dedicated to counters
1 room with a X-ray generator (Faxitron CP 160)
Specific equipment :
Hot cell for low or high energy radionuclides
Autonomous armoured animal house (24 cages)
Armoured Microbiological safety cabinet (MSC)
Microbiological safety cabinet KSP12 double filtration (dedicated 3H)
Filter fume cupboard (dedicated 3H and 14C)
Leaded casings for the storage of radioactive wastes
Radioactivity detectors (portable or fixed)
Counters :
Wizard 1480 gamma counter (Perkin Elmer)
Hidex 300 SL scintillation beta counter (Science Tec)
Cyclone Plus + Image Eraser (Perkin Elmer)
MicrobetaJet counter (Perkin Elmer)
Harvester TOMTEC (Zinsser)
Real-time autoradiography (BeaQuant, Ai4r)
Laboratory equipment : incubators, centrifuges, MSC, freezers
Applications
Immunobiology and Immunotherapy
Radiolabeling of antibodies for imaging and cancer therapy
Transplantation
Kinetic and molecular studies of metabolism
Molecular radiopharmaceuticals
Mis à jour le 15 October 2020 par Carine GIMBERT.