Cytocell is a cytometry and FACS (Fluorescence Activated cell Sorting) facility. Created in 2010, the Cytocell facility was born from the SFR-Santé (« Structure Fédérative de Recherche en Santé François Bonamy ») and the
CRCINA
(« Centre de Recherche en Cancérologie et Immunologie Nantes-Angers »).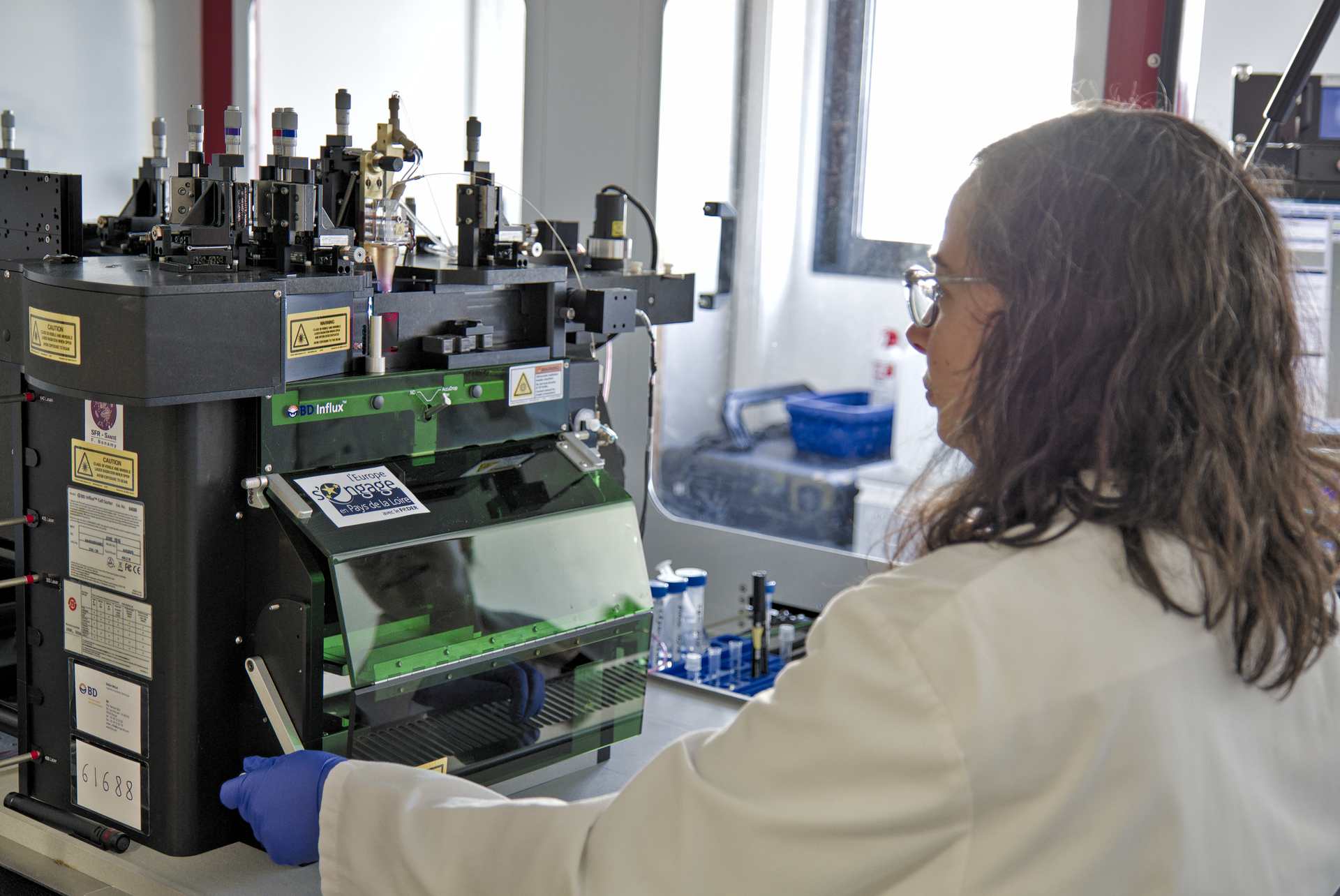 This platform is part of the Functionnal Exploration axis of the facilities network «
Biogenouest
», which brings together platforms from the west of France in lifesciences and the environment, as well as the « Programme d'investissement d'avenir »
LabEx IGO
, a national scientififc research program.
We offer a set of expertise, skills and services focused on flow cytometry, imaging-cytometry and cell sorting by FACS. This platform is a structure open to all staff belonging to the constituent units of the « SFR Santé », but also to those from external research units and private companies. We accept all studies within the limits of the health and safety rules in place in Biosafety Level (BLS)-2 laboratory supplied with Class II Biological Safety Cabinets (BSC).
Expertise
Flow cytometry allows rapid quantification (10 000 events per second) and individual characterization of isolated particles (cells, vesicles). They are suspended in a liquid flow and entrained up to one or more sources of light excitation. This technique allows, the relative measurement of morphological parameters at the scale of the single cell, (FSC: cell size, SSC: granularity, internal complexity), but also the relative levels of expression of one or more target antigens (up to 30), by using antibodies coupled to fluorochromes or fluorescent probes.
The resources of the facilities make it possible to characterize and separate populations of cells, prokaryotes as eukaryotes, animal as vegetable, or particles (vesicles, nanoparticles, organelles ...) for fundamental and / or clinical research.
Applications
Immunophenotyping up to 30 target antigens: proteins (phosphorylated or not)-at the membran, cytoplasmic, or nuclear compartment ; mRNA ; DNA
Assessment of mortality (cell viability, apoptosis), activation and stress (red-ox status, calcium flux measurement)
Study of the cell cycle and proliferation
Multiplex quantification immunoassay of chemo- or cytokines, soluble proteins in serum :plasma or tissue culture samples
Imaging-Cytometry: co-expression, translocation, internalization, morphology, spot counting
FACS: physical separation of one or multiple cell subpopulations from a heterogeneous sample under pressure and at high speed
Equipments
Our two cell sorters are placed in class II BSC and are equipped with the following options: 4-ways (FACS Aria III) or 6-ways (FACS Influx) for bulk sorting in tubes (eppendorf, 5mL tubes, 15mL tubes), sorting into plate (6/12/24/48/96 well), single-cell cloning (ACDU with index sort) and temperature control option of the sample injection and sort collection chambers.
The facility staff performs the weekly calibrations, monthly maintenance, as well as the management of troubleshooting. A quality program is in place to ensure maximum optimization of the optical performance of each instrument at all times.
Tems of access
The staff of the Cytocell platform provide services for the academic scientific community and for private industries (please contact us for a quotation). The staff has the capacity to ensure each step of your project, from marking the cells to providing an analysis report.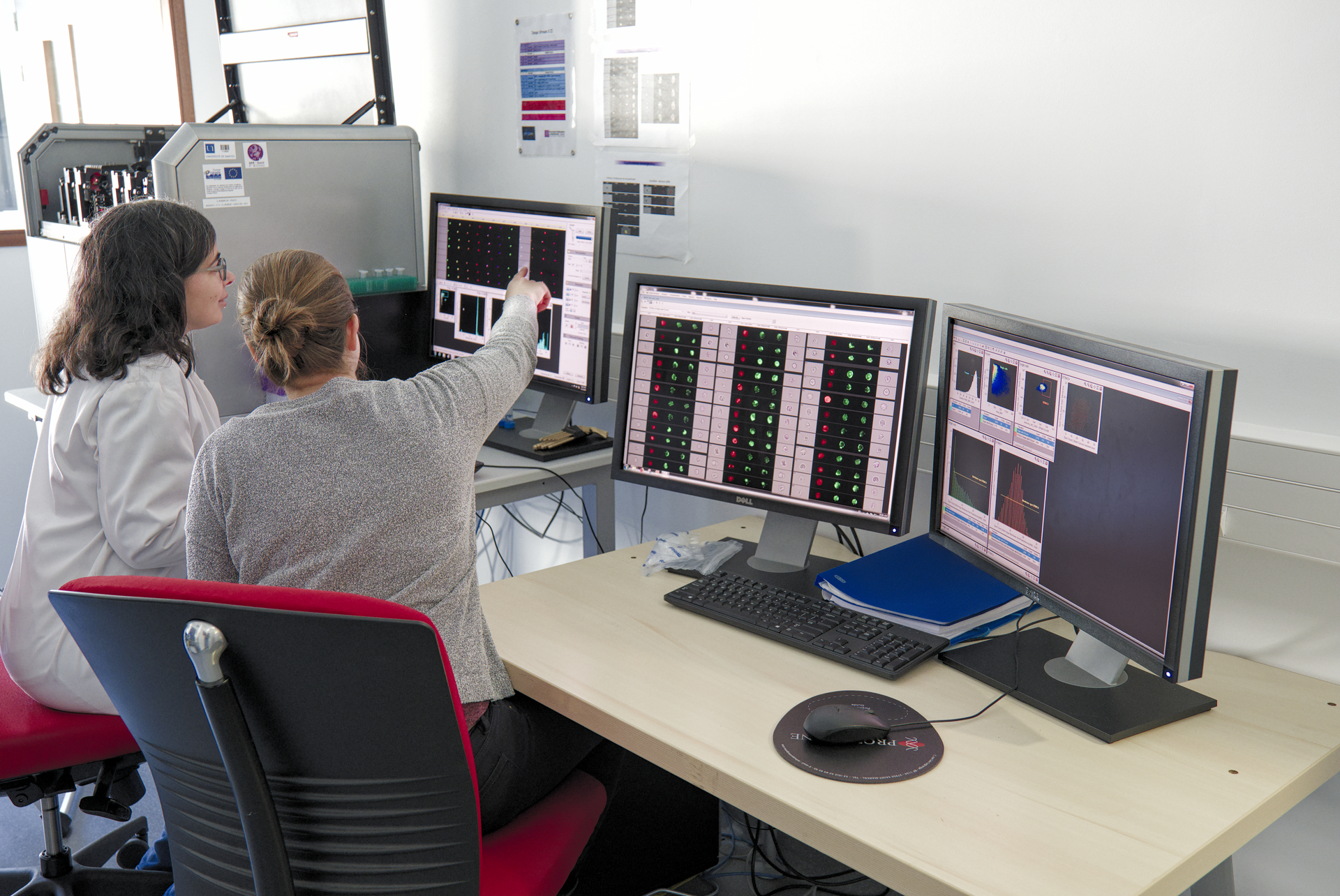 The staff ensure theoretical and practical trainings locally (« École doctorale de Biologie Santé »), regionally (Biogenouest) and nationally (Inserm). These trainings are accredited by the «
Association Française de Cytométrie
» (or AFC, the french equivalent of the ISAC) and are adapted to the level and needs of users.
Personalized support of project and / or user can also be implemented, including assistance with the design and implementation of experience, design of multiparametric panels, acquisition, interpretation and presentation of analysis results.
Autonomous use of cutometers
Cytometers are accessible to users after mandatory training provided by the facility staff.
Access to the facility and use of the platform's cytometers are subject to approval and compliance with the rules in place in the « Université de Nantes », the « SFR-Santé », the IRS building, and the
Cytocell facility user charter
.
The use of equipment from the Cytocell platform is subject to
pricing
.
Photo credit : Université de Nantes
Mis à jour le 15 October 2020 par Carine GIMBERT.